Methodology
22. September 2022 By Frederik Zimmermann
#6 Agile software development – can agility facilitate ambidexterity?
Now agility can help fix medical problems, too?
In previous blog posts (see below), we provided the essential facts about agile software development. You learned that agility is built upon four values and 12 principles and that it requires the empirical knowledge acquired during a development process. Agility can help us solve complex problems, especially when operationalisation is not done in a dogmatic way. Today, we will be looking at the interplay between agility and ambidexterity.
Ambidexterity = ability to use one's left and right hand equally well
What might sound like a medical issue is one of the three cornerstones on which the adesso New School of IT (NSoIT) is built. Together with cloud native thinking and data mindedness, ambidexterity encourages you to think of your IT department as a true partner in all key questions relating to the future of your company. Ambidexterity focuses on two aspects of a company's IT department, innovation and development as well as stability and cost efficiency. Ambidexterity works on the assumption that there is great potential value in the close collaboration between the offices of the Chief Digital Officer (CDO) and Chief Information Officer (CIO). Along with that, additional added value can be generated if close strategic and communication links are established between the CDO/CIO and the specialist departments. Put simply, a company's IT department should be given a place at the table when decisions are made. Ambidexterity teaches us that close links between key corporate offices can contribute significantly to a company's value orientation.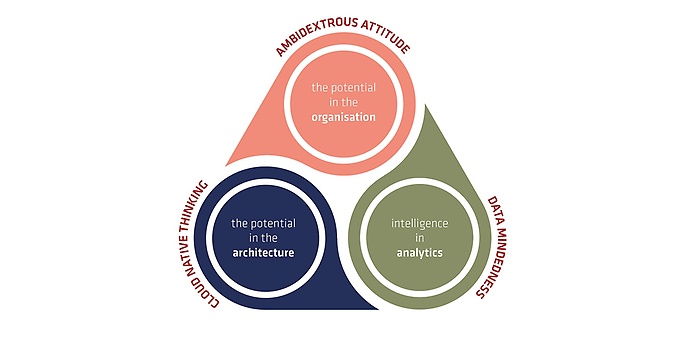 Ambidexterity is also reflected in the goals of agile frameworks
In agile project management, which involves the operationalisation of agile values and principles as well as agile empiricism, we often encounter well-known frameworks and methods of agility, such as Scrum, Kanban, design thinking, Scrumban, SAFe® and LeSS®. Each of the approaches focuses in equal measure on two goals:
1. Reducing communication transaction costs to a minimum

2. Rapidly incorporating new findings into the ongoing development process
The frameworks meet the second goal by taking into account the basic mechanics of the Deming cycle, which is also known as the PDCA cycle. The iterative process of developing a solution proceeds in short phases, each of which covers the plan-do-check-act cycle of an approach (see Fig. 1).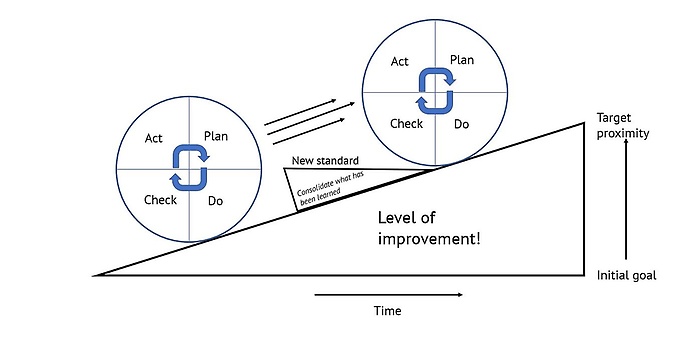 On the other hand, communication costs are kept to a minimum thanks to short lines of communication made possible in agile organisational workflows by taking an interdisciplinary approach. In this way, it is possible to jointly review what has been learnt (empiricism) during each development cycle and decide how to proceed in the next one. The close relationship between ambidexterity and agility becomes clear at this point. They both require the same highly intermeshed, interdisciplinary organisational structures and call for the breaking down of company silos that we are all familiar with.
Agile frameworks as a vehicle for ambidexterity
So far, we have learned that agility and ambidexterity can have the same goals. Both seek to shorten lines of communication and promote an iterative approach. But now there is the question of how ambidexterity can be practised and thus operationalised within an organisation.
And this is where the interplay between agile frameworks and ambidexterity comes into play. Taking a smart (that is, non-dogmatic) approach to the implementation of agile frameworks, we can quickly align strategic requirements (discipline, design, architecture) using insights gained during the execution phase and modify our approach going forward. Frameworks provide us with events, roles and processes that can help us to operationalise ambidexterity. As a result of this, the frameworks let us link the strategic level with the execution level in an interdisciplinary way that promotes communication.
Due to the wide range of frameworks and methods on offer, take your time before making the leap
Some frameworks, such as Kanban, Scrum.org (incl. Nexus) and LeSS®, focus on the team and initial scaling levels, and can add value especially at small and medium-sized enterprises (start-ups, micro businesses). They already have short lines of communication because the management and execution levels are close to each other in the hierarchical order. However, if we are talking about bigger companies (large SMEs, corporations), we would need coordination mechanisms that support us at the strategic level and in synchronising a number of agile teams. The Scaled Agile Framework® (SAFe®), for example, offers a comprehensive framework that focuses on the synchronisation of all parts of the organisation. No matter which agile framework an organisation opts for, it is critical that it is not be imposed on the organisation and overwhelm a system due its dogmatism. In this context, we at adesso use the term 'tamed agility'. Common sense and experience aid in a value-based rollout of agile frameworks to support the ambidexterity proposed by the adesso New School of IT.
We can therefore say that ambidexterity and agility pursue the same set of goals and can be interdependent. Ambidexterity requires agility and vice versa. A C-level commitment to ambidexterity should therefore be made prior to implementation of agile frameworks. Otherwise, it would be difficult to successfully implement an agile transformation (in this context, success is defined as value-oriented).
What has been your experience with agile frameworks? Do you agree with my thesis that ambidexterity is more or less essential to carrying out agile transformations? I look forward to your feedback and questions. Do not hesitate to get in touch with me.
You will find more exciting topics from the adesso world in our latest blog posts.
Why not check out some of our other interesting blog posts?