Inside adesso
25. August 2022 By Iuliia Sidorenko and Sitora Sodatkadamova
Eight steps to successful (Salesforce) certification
Certification and why it's important for Salesforce consultants
What does a freshly minted graduate look forward to most after receiving his or her diploma? Most likely the graduation party, their first pay cheque, paid holidays and the end of constant tests and exam stress. They'll soon be in for a rude awakening, at least when it comes to tests and exams. Accreditation and certification are often part of one's professional life, too. This is especially true in the IT world – in our particular case, Salesforce consulting. The Salesforce platform offers a wide array of products covering a range of topics. That also means there are a lot of new skills to learn. To become an expert and advance in your career, obtaining a few new certifications every year should be your goal. This is especially true for people just starting their careers.
A typical Salesforce certification consists of 60 to 65 multiple choice questions that you have to answer in 90 minutes. The question is: how do you find the time and energy to build up knowledge all while doing your project work? This blog post will provide you with tips and tricks on sustained, long-term learning and how to have fun in the process.
Tip 1: Ask experienced colleagues who are already certified
While this may seem trivial, it is nevertheless essential. Especially at the beginning of your career, it is very likely that one or more of your colleagues may already have the certification you are looking to obtain. Go to your team leader who has the relevant certification and ask them for their advice. Whether you do this during a coffee break in the kitchen, on your lunch break, over a beer after work or at a company event, don't be shy. Your colleague will know exactly what you are struggling with at the moment and, as we have experienced many times before, they can give you tips that are critical to you passing the exam if you're lucky. Which topics are trickier than you might think, which questions come up a lot, which website has test questions that might appear on the exam and where can you find suitable articles on the company's intranet – answers to all these questions will give you valuable insights into where you should focus your attention. Plus, it can't hurt to ask.
Tip 2: Set a clear goal for when you want to take the exam
We recommend setting a date and registering for the exam as soon as you have decided on what certification you want to obtain. It helps to get a sense of how much time you have until the exam date and to prioritise the tasks. This way you don't put off learning.
Tip 3: Use a variety of resources
Use as many different resources as possible in the lead-up to the exam. One of the first places to turn to is the certification provider itself, where you will generally find a help page and, in many cases, even webinars, podcasts and a community that shares information on the topics covered. In the case of Salesforce, the learning platform is called Trailhead, which also offers a number of useful tools. Likewise, YouTube is not just for entertainment purposes. It is worth taking the time to look for videos related to the exam you will be taking. Online practice tests offer two advantages: you have the opportunity to test your knowledge while also preparing for taking the exam. Always make sure the sources are credible. It is best to ask your more experienced colleagues for tips on useful resources to prepare for the exam.
Tip 4: Bring order to your knowledge
At the beginning, we truly believed that we understood the learning material on the Salesforce learning platform, Trailhead and from other sources and thought that we'd remembered everything. After an information overload, it became clear to us that we have to create a place where we can store the information and sort and arrange it ourselves. For example, mind maps – both digital and drawn on paper – give a good, quick overview of the topic. Never underestimate the amount of time you'll need to create a mind map. By doing this, however, you work through and re-sort the material, which can help you better retain the information.
Tip 5: Learning by doing
The quickest way to understand a topic is to apply what you have learnt directly. Even if learning material such as videos or user guides would appear simple and easy to understand, you learn the most when you apply your knowledge in a test environment. That's because reading and learning about a feature is different from implementing it yourself. adesso has made a number of test environments available in order for you and others to run through complex scenarios beforehand and ultimately be in a position to act faster during customer projects.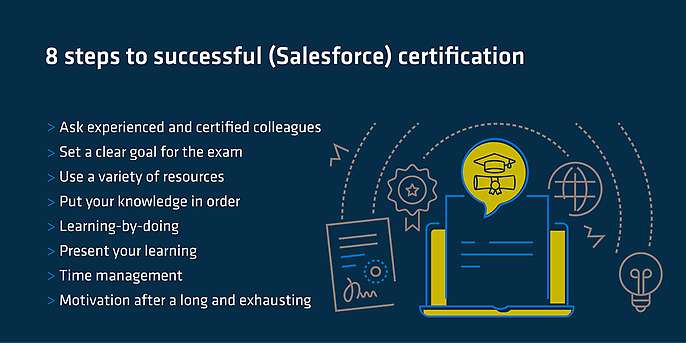 Tip 6: Give a presentation on what you've learned
Ask yourself this question: Did I understand the platform, the products and the functionalities? Could I explain why one asset is linked to the other and in which situations the specific features should be used to someone else? To test your knowledge, present what you've learnt to your colleagues, someone from the partner community or one of your friends. For example, we had two meetings a week on different topics at adesso: one with our mentor and one with another consultant from the Salesforce partner community. In addition, we'll be presenting the findings and experience every month at a lunch and learn call and sharing the latest news from the world of Salesforce. Here, too, preparing and presenting our newfound knowledge are great ways to gain an even better understanding of it.
Tip 7: Time management
One of the most important ways to prepare for exams, further training and certification is to manage your time wisely. Calculate in advance how much time you can spend each week and mark out this time in your daily calendar. Whatever calendar you like to use most, be it Outlook, an app on your smartphone or simply a pad of paper, only use it as a reminder for when you need to start studying. Find the times when you are most efficient. adesso helps us incorporate preparation for certification into our day-to-day routine. Care is taken to ensure an employee is not overworked, with him or her working with their manager to set a manageable pace.
Tip 8: Staying motivated after the long and exhausting day
Everyone is different. What motivates one person can put added stress on someone else. For this reason, it is important to find out what the best way is to motivate yourself. Here are a few tips to keep in mind based on our own experience:
Vary your surroundings: After a long day at the desk, it's worth seeking out another location. Answer the test questions on your smartphone while lying on a sofa with a drink in your hand, for example. Or do this outside on a park bench. Go to a different location to gain a new perspective.

Don't overdo it and leave time for breaks. The

MIND programme

was set up at adesso to assist you here. As part of the programme, you can attend regularly scheduled courses that help you focus or meditate, so that you can then start the next task recharged and reenergized.

Keep your eyes on your target: You don't take an exam just to get a certificate at the end. Certification is a path towards reaching a larger goal, be that to gain higher qualifications, to open up opportunities to move up professionally, to be able to take part in exciting projects, to expand your job opportunities or to support your team. Remind yourself every day why you want this particular certification.
Conclusion
Lastly, we want you to know that it is not the end of the world if everything does not go as you had planned in an exam and you do not obtain certification the first time. Many people have been through this before you. You learn from experience, which helps you the next time around. Use the opportunity you're given to better prepare for the next exam.
We are grateful for the support we receive from our team and from adesso. We believe that with our eight tips on the path to successful certification, you will reach your goal with less stress and fewer headaches.
You want to learn more about Salesforce at adesso? Take a look at our website.
Further exciting topics from the adesso world can be found in our blog articles published so far.