Digital Experience
4. October 2022 By Isabelle Meiller
Professional customer acquisition – part 1: effective lead generation through marketing automation
Integration of lead generation in the customer acquisition process
Customer acquisition is defined as measures undertaken to gain new customers, which generally requires that a lead be generated first. The primary purpose of lead generation is to get people interested in your product or service and later convert this interest into a sale. As part of the process, leads provide their contact information or even make a purchase on the spot. Lead generation is used in both the B2B and B2C sectors, meaning it is not dependent on any one sector.
Because each person has different needs and preferences, however, not everyone is automatically a lead. Companies would therefore be well advised to align the accompanying lead generation strategy to the relevant target group to ensure that the lead receives optimised user communication containing the information they need at their current stage in the customer journey.
Why is lead generation important, and what role does marketing automation play here?
Generally speaking, the aim of lead generation is to gain the attention of the target audience. Companies establish contact with the lead in order to provide them with a steady stream of new information and then later convert them. While this may all sound very complicated, it really is not. This is where a marketing automation system takes on a central role. The system carries out core functions at the start of the process. In addition to personalised communication, it scores and routes incoming leads in real time. The system then performs a fully-automatic check to determine whether the lead has been sufficiently qualified in order for it to be passed on to sales or whether the lead should be further nurturing. In the latter case, it will route the lead along an appropriate nurturing journey and then automatically transfer it to sales at a later time. In this way, marketing automation makes it possible to automate manual tasks and deliver personalised content to leads at the right time.
Lead generation should be placed in the first phase of the customer journey – the awareness phase – and thus provide the foundation for a successful start to the sales process.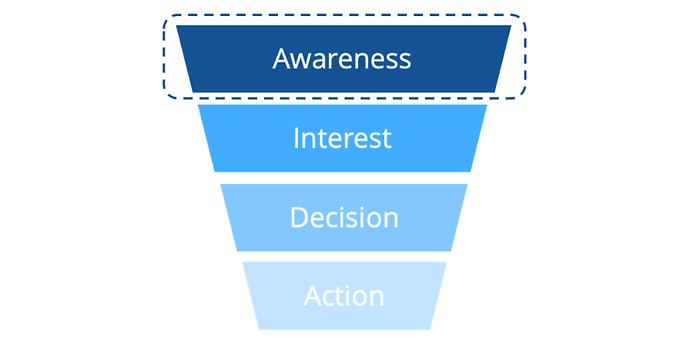 Beyond the actual goal of generating new customers, lead generation also has a positive impact in other areas and helps companies:
Acquire new customers: Companies can build up a large database of potential customers who could be converted to actual customers at a later time.

Address the appropriate target group: Marketing focuses on developing 'warm', interested leads, which allows sales to concentrate from the very start on high-quality leads that are more likely to convert than 'cold' leads. This in turn allows the company to more effectively allocate internal resources.

Increase brand awareness: Brand awareness and visibility can be significantly increased through the targeted development of touchpoints for potential customers.

Increase revenue: Research in the field shows that companies with an effective lead generation strategy generate 133 per cent more revenue than expected (Intellistart, 2021).
The final point illustrates that having a strategy is a key factor in successful lead generation. Companies deploy a lead generation strategy to increase lead quality as well as the number of leads and to improve the strategy's effectiveness (Intellistart, 2021).
How do you develop a lead generation strategy that integrates marketing automation?
Now that we know how important marketing automation is for lead generation, I will now list five steps that you can easily take to create a lead generation strategy that includes marketing automation in the next part of my blog post.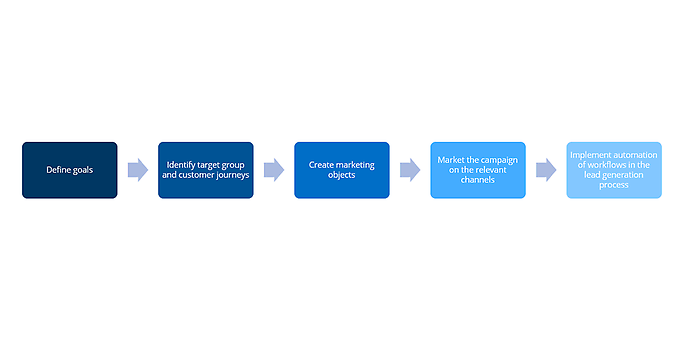 1. Define the objectives
Before you get started with your lead generation strategy, you need to know what your objective is. How does the objective fit into your company's overall goals, and how does the lead generation strategy contribute to achieving these goals?
Is the focus on acquiring new customers? Should the company be positioned as an expert in a field that is still relatively unknown? Or are there other goals that lead generation should focus on? Once the objectives have been defined, the next step is to identify the target group and their touchpoints for marketing automation.
2. Define the target group and customer journey
If the target group is not yet known, it needs to be defined. You have to have a clear picture of what the typical, ideal customer looks like. What are their preferences and characteristics? What are the customer's demographic and psychographic characteristics, and what problem does the product or service being marketed solve for the customer? Developing personas can prove extremely useful here. The more you know about the target group, the greater the chances are that you will be able to reach the objectives you have defined.
It is also important to define customer journeys and the associated touchpoints that serve as the basis for marketing automation. The customer journey describes the path a lead takes from the first touchpoint to a purchase. It also sets out the marketing objects, for example an e-mail or landing page, that are to be sent to the lead for further qualification using the marketing automation system.
3. Create marketing objects for marketing automation
Lead generation is all about gathering new information from potential customers. This is typically done using forms that are either integrated on the company website or in a marketing-specific landing page. The form should be short enough that the visitor is prepared to fill it out completely and long enough to obtain all the relevant information. Smart forms can also be used, which only request information that is not already known, for example, when a user re-registers for a webinar.
4. Increase visibility for potential customers
The lead generation strategy will vary depending on how potential customers become aware of a product or service. Marketing is traditionally divided into two categories which will be described below.
Inbound marketing
Inbound lead generation is permission-based, meaning the potential customer finds the company and decides on their own to make contact. The process is broken down into three steps:
1. A prospective customer finds a product or service through one of the marketing channels being used (for example, a website).

2. There is a response to a call to action (CTA), and the prospective customer is redirected to the relevant campaign landing page.

3. Here, the prospective customer fills in the form in return for which he or she receives added value, such as a free whitepaper
What the right channel is for marketing a product depends entirely on which marketing channels are used by the target group. As a general rule, the more you know about the target group, the more targeted the marketing can be.
Amongst other things, blogs and whitepapers are a good choice for use as marketing content for inbound marketing. Using a thought leadership strategy to establish expertise in a particular area or field, the target audience will be able to find the appropriate channel. This could also include webinars and posts on social media.
Outbound marketing
Conversely, outbound marketing aims to reach potential customers through e-mails or advertisements. In other words, the company initiates contact with them. Outbound marketing is broken down into three steps:
1. Potential customers who fit the profile of the desired target group are identified.

2. The company searches for or requests their contact information.

3. The potential customers are contacted by sales.
The potential customers identified via outbound marketing are typically harder to convert because the content was sent to the potential customer because and they did not explicitly search for the product or service. Under the chosen strategy, the potential customers should therefore belong to the target group and the product or service should deliver added value to them.
Common outbound marketing methods include paid advertising on Google (Google Ads/SEA), cold calls and e-mail marketing. Especially in the B2B sector, trade fairs are a common way to generate leads.
Workflow automation in the lead generation process
Once the first leads have been generated, there is then the question of what to do next. The newly obtained data is available, with marketing automation providing support at this point to ensure that it does not go unused. Incoming data is particularly valuable for companies, which is why it should be processed as quickly as possible.
The most effective way to do this is using a marketing automation tool in tandem with a CRM tool. A marketing automation tool stores incoming leads as records in real time, evaluates them and processes them accordingly. In follow-up to point two, the customer journeys and touchpoints can be digitalised at this time. While this is taking place, marketing and sales define when a lead is ready for further processing by a sales representative to ensure that sales opportunities are not lost or forgotten.
Depending on the quality of the incoming data, it is also a good idea to use a tool to automatically forward the incoming data, for example, using the business e-mail address and by means of a database comparison.
Grading plays a special role when it comes to data quality. This technique is used to assess which leads are particularly attractive to a company. For example, incoming leads are assigned a letter grade based on implied factors, which can help ensure that only attractive leads are passed from marketing on to sales for real-time processing.
Conclusion
Lead generation can be deployed by companies to develop new customers. A strategic approach is needed here. As an example of this, the use of marketing automation to automate lead generation processes should be done in a targeted manner. That way, the system can help companies generate more leads and automate processes. The only way to find out if an initially unknown customer will become a lead is through effective and seamless interaction between marketing and sales. That should always be the core message.
Would you like to learn more about marketing automation? Then visit our website.
We are happy to advise you on any topic relating to lead generation through marketing automation. We are here for you, all the way from the system landscape analysis and tool selection to implementation and development of use cases that align with your business goals. Feel free to contact us.
You will find more exciting topics from the adesso world in our latest blog posts.
Also interesting: